I'm In Love…With My Violin
I admit it. I have totally fallen in love with my violin again. I've always had an interesting on/off kind of relationship with it, but right now, I just can't stop playing it! Since moving back to Hastings, I've really been revisiting old roots, deep memories and places that sing out "home' to me. This has also been reflected musically in what I have been doing.
Violin was the first instrument I ever learnt and so recently I've been exploring it just a little every day and realising how much it has influenced my own singing, phrasing and rhythm. This all feels very personal and so it only feels right that I should be playing solo, just me and my little ole violin, navigating our way through some new tunes, making some mistakes along the way, but always experimenting and pushing the boundaries of what I believe I can do with this combination.
New Song
To listen to one of my new songs about a kooky recurring nightmare I had as a kid, see below…
I recorded this in the gorgeous Bettie Page room at The Pelirocco Hotel in Brighton while I was there on a songwriting retreat called Pro7ect. I got to work with some INCREDIBLE Artists and Producers, including Talvin Singh, Matty Benbrook (Paolo Nutini), Iain Archer (Snow Patrol) and Ian Wallman (who took those pictures above of me lovingly cradling my violin).
I will be sharing some of that music with you very soon…but in the meantime…
London Gig
I'm going to be doing my first London gig in a while supporting the wonderful Honeyfeet Album Launch at Total Refreshment Centre, 2A Foulden Rd, Unit 2, London, N16 7UU, U.K on APRIL 5TH 2018. You can buy tickets here…
www.residentadvisor.net/events/1071541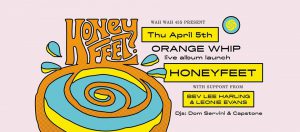 Please come and say hi, I'd love to talk to you!
I'll be playing solo and it's a bit scary, so would love to see your smiling faces!
Thanks for all your support,
Love B x