Brand New Single – Out Now!
The day has finally arrived…
Darlings,Its finally time to share my exciting news with you…
Its been nearly a decade since I've released any of my solo music into the public domain, but the day has finally arrived and I am so excited to be sharing it with you.
Today my new single 'Dirty Dragonfly' is released into the world by the wonderful and supportive independant record label WahWah45s. They've waited a long time for this musical soup I had in my brain to come to fruition!

Dirty Dragonfly was inspired by a very unconventional, and very brief, holiday encounter I had:

My first time away from being a mum, I travelled to see my sister in Spain and I had an outpouring of musical ideas while I was there. Total bliss – just me, a beat up old guitar, a LOT of hand claps and a laptop. I went swimming in an outdoor pool and got stalked by a very beautiful, but very persistent dragonfly. Every time I swam a length, it would be waiting for me at the other end of the pool. I really enjoyed being able to take the time to interact with the nature that was around me… even if it was a bit creepy…

If you'd like to have a listen/buy/stream/share and immerse yourself in my inner experimental, playful world filled with violins, oud, percussion and a LOT of hand claps then please go to…
https://wahwah45s.lnk.to/2zGd7DEM

Meanwhile…
Heres a goofy picture of me recording this single with my awesome producer and partner Frank Moon.
….and a goofy picture of my niece Abi Harcourt-Smith (sorry Abi!)  who took a hair and make up idea I had and realised it fully for our shoot with the fantastic photographer Simon Booth.

So…

As a little thank you for reading my news, here's a little solo live video I made at one of my Songs In Unexpected Places gigs.  I played to a tiny audience of 15 so I could squeeze them into the fishing boat inside the Fishermans Museum after hours.
Dirty Dragonfly solo violin/voice at Fisherman's Museum Hastings
THANKYOU SO MUCH
for taking the time to read this news and I hope it finds you well and following whatever makes you feel good in this crazy ole world of ours,

All my love

B x

p.s More singles and a full album coming this Autumn …
Wonky Cups, Cats and Revenge
Wonky Cups, Cats and Revenge
I don't know about you, but I'm finding social media a bit overwhelming at the moment and have been missing having some proper, meaningful exchanges with other humans.  In an age of lock downs, pandemic's, environmental disasters and crazy politics I am DESPERATE to get back to the basics of what makes us the truly incredible species that we are.In this news post, I will be musing about all sorts of things and, of course, keeping you up to date on all my music stuff too.  BUT it's really important to me that we have an exchange, so PLEASE write back if you feel moved to.  I want to know how you are, what's keeping you sane right now and good things that are happening in your life. Write to me at post@bevleeharling.com
We need to counteract the constant bombardment of bad news with some hope, happiness and a liberal sprinkle of quirky silliness.Speaking of which…
Meet Wotsit…a ginger kitten who belongs to a violin student of mine…butter wouldn't melt right?
WRONG!! The last time I taught my student, this devil kitty managed to claw onto my carefully coiffered plait and swung on it for a good 2 minutes!! It was also gut wrenching to chuck this little cutie out of my violin case at the end of the session.

Passing on the skills I have to others during this time, either through socially distanced lessons or on Zoom has kept me connected with a wide range of wonderful people and meant I've been able to make musical connections with others.

What skills do you have that you've been sharing over this time?
If like me, you like to immerse yourself in a good box set occasionally, there's a brand new series starring Maisie Williams from Game of Thrones currently on Now TV.  The story is a tale of revenge and weird survival skills as Maisie's character vows to avenge her fathers death.

I created my own version of Peggy Lee's 'Why Don't You Do Right' using just my violin and voice, recorded by Frank Moon. The Colman Brothers weaved their magic into it and the wonderful WahWah45's released it.

Both versions and a remix by Suonho can be listened to and purchased from Bandcamp by clicking the vinyl picture below.

How are you listening to music these days? I mainly use a mix of vinyl and spotify, but also buy downloads where I can to support other artists, especially in the current climate.
I have discovered a new creative passion recently…I am totally obsessed with throwing clay!! I'm not very good at it yet, but I'm loving the process of working with something so physical, compared to the other worldly quality of composing music.
I love that you have no idea what the finished article will look like until it emerges from the kiln as the glazes don't look anything like the true colours once they've been fired and I'm also proud of the wonky bits!!!

Have you discovered a new skill or passion over lock down??
Thats it from me…
Thanks for making it this far, you must have a really great attention span!
As a thank you here's a song about a recurring nightmare I had as a kid…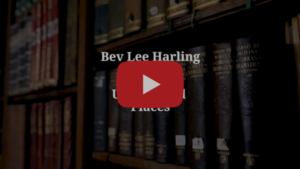 Bev Lee Harling – Man Under My Bed
Taken from my special solo concert series 'Songs In Unexpected Places'. This concert was in an old Gentleman's Library in a convent, untouched for over 60 years…Looking forward to when I can curate Series 2 in 2021.

I'll be in touch soon with news about my 2nd album…its coming!!!

Can't wait to hear from you,

Love, Love, Love

B x
Copyright © 2020 Bev Lee Harling, All rights reserved.
Our mailing address is:
post@bevleeharling.com
What To Expect at Songs In Unexpected Places…
My latest project is in full swing now and I am LOVING meeting all the awesome people who have been brave enough to come and meet me at random places around my wonderful hometown of Hastings.  If you'd like to know what the heck I've been up to here's a fab 'behind the scenes' movie by bestie mate and brilliant TV presenter Emily Booth made from the first event.
News
This week, The Hastings Independent Press have featured an article by the wonderful Sophie Shaw about Songs In Unexpected Places.  We met at the newly opened Goat Ledge to discuss how different spaces affect audience members and the performers who play in them. You can read the article below…
HIP article by Sophie Shaw. Photography by Georgie Scott. Shot on location at the Library @ The Holy Child, St Leonards.
Songs In Unexpected Places No.2
A while back, I was looking through some old photos with my Dad, when we came across this beautiful picture of my Mum and Dad on their first ever date, it was outside a coffee house my Mum worked at in the 50/60's called The Regency.
I was really struck by the significance of this picture. Had this event not happened, I wouldn't have happened! 
I tracked down the spot (of which I had walked past a million times and never paid any attention to) and decided that this was where I would meet everyone for my 2nd gig.
I then led everyone The Clockwork Crow in George Street. This is a treasure trove of a shop which not only has a cave in the back, but also (handily for me) a vegan cafe, Sham City Roasters which makes its own coffee and stocks the most decadent Deadbeat Doughnuts I've EVER eaten!
I'm really enjoying exploring the richness and quirkiness of my beautiful hometown of Hastings through connecting with audiences in these amazing spaces.
Coming Up Next…
Songs In Unexpected Places no. 3 is on June 17th 2018 and I am REALLY excited about this one. It's not usually open to the public so it will be such a treat to share with you…
To sign up go to Eventbrite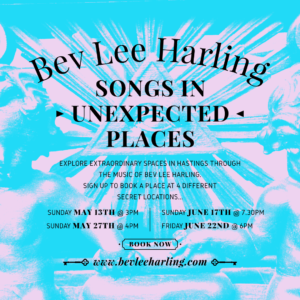 As always, thank you so much for all your continued support,
B x
Songs In Unexpected Places
Very excited that my secret gigs around Hastings are now under way…
After some incredible suggestions from my online fans and friends I have found some very special spaces to share with you…
The first gig in the series on the 13th May was so much fun and a brilliant way to spend a Sunday afternoon, exploring Mr Jones's Library at The Holy Child in St Leonard's.
This building is not usually open to the public and is about to be renovated after being left since the 1970's, so it was a fascinating time to explore the site and perform a solo gig to such a brilliant and up for it audience.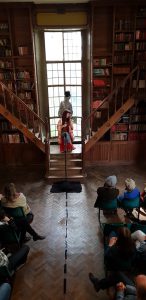 To join in my 'Songs In Unexpected Places' please follow the link below and sign up to enter the ticket lottery.
Further gigs in the series will be 27th May, 17th June and the 22nd June 2018
Some of these spaces are small, so there will be limited spaces available.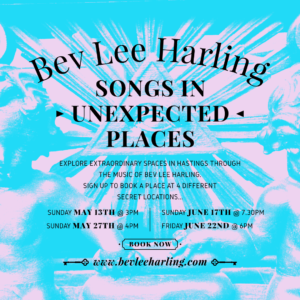 I'm In Love…With My Violin
I admit it. I have totally fallen in love with my violin again. I've always had an interesting on/off kind of relationship with it, but right now, I just can't stop playing it! Since moving back to Hastings, I've really been revisiting old roots, deep memories and places that sing out "home' to me. This has also been reflected musically in what I have been doing.
Violin was the first instrument I ever learnt and so recently I've been exploring it just a little every day and realising how much it has influenced my own singing, phrasing and rhythm. This all feels very personal and so it only feels right that I should be playing solo, just me and my little ole violin, navigating our way through some new tunes, making some mistakes along the way, but always experimenting and pushing the boundaries of what I believe I can do with this combination.
New Song
To listen to one of my new songs about a kooky recurring nightmare I had as a kid, see below…
I recorded this in the gorgeous Bettie Page room at The Pelirocco Hotel in Brighton while I was there on a songwriting retreat called Pro7ect. I got to work with some INCREDIBLE Artists and Producers, including Talvin Singh, Matty Benbrook (Paolo Nutini), Iain Archer (Snow Patrol) and Ian Wallman (who took those pictures above of me lovingly cradling my violin).
I will be sharing some of that music with you very soon…but in the meantime…
London Gig
I'm going to be doing my first London gig in a while supporting the wonderful Honeyfeet Album Launch at Total Refreshment Centre, 2A Foulden Rd, Unit 2, London, N16 7UU, U.K on APRIL 5TH 2018. You can buy tickets here…
www.residentadvisor.net/events/1071541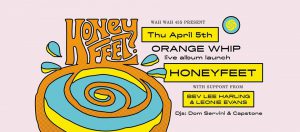 Please come and say hi, I'd love to talk to you!
I'll be playing solo and it's a bit scary, so would love to see your smiling faces!
Thanks for all your support,
Love B x
Brand new music…
I'm Writing Again!!
In October 2017 I was fortunate enough to be accepted onto the Arvon Foundation's Songwriting Retreat, led by the wonderful Ray Davies (The Kinks) and Marion Wells. It was just what I needed to reboot me back into my love of songwriting and armed only with my little old violin I set to work writing song after song in a beautiful farmhouse in Devon. I met some incredible creative talent on the course, including, of course, the total legend that is Ray Davies and learnt so much about myself as a songwriter and musician…
So…under the cover of darkness last month I sneaked out without telling anyone, armed only with my violin and test ran a brand new song at this gorgeous little acoustic club in Hastings called The Lantern Society…they pick the best bits for their radio show, so if you want to go straight in for a BLH fix go to 23.20, if not, light a candle, pour yourself a little of what you fancy, don your favourite cosy cardigan and listen to the whole thing…
Thanks so much for all your continued support,
Love BLH