Wonky Cups, Cats and Revenge
Wonky Cups, Cats and Revenge
I don't know about you, but I'm finding social media a bit overwhelming at the moment and have been missing having some proper, meaningful exchanges with other humans.  In an age of lock downs, pandemic's, environmental disasters and crazy politics I am DESPERATE to get back to the basics of what makes us the truly incredible species that we are.In this news post, I will be musing about all sorts of things and, of course, keeping you up to date on all my music stuff too.  BUT it's really important to me that we have an exchange, so PLEASE write back if you feel moved to.  I want to know how you are, what's keeping you sane right now and good things that are happening in your life. Write to me at post@bevleeharling.com
We need to counteract the constant bombardment of bad news with some hope, happiness and a liberal sprinkle of quirky silliness.Speaking of which…
Meet Wotsit…a ginger kitten who belongs to a violin student of mine…butter wouldn't melt right?
WRONG!! The last time I taught my student, this devil kitty managed to claw onto my carefully coiffered plait and swung on it for a good 2 minutes!! It was also gut wrenching to chuck this little cutie out of my violin case at the end of the session.

Passing on the skills I have to others during this time, either through socially distanced lessons or on Zoom has kept me connected with a wide range of wonderful people and meant I've been able to make musical connections with others.

What skills do you have that you've been sharing over this time?
If like me, you like to immerse yourself in a good box set occasionally, there's a brand new series starring Maisie Williams from Game of Thrones currently on Now TV.  The story is a tale of revenge and weird survival skills as Maisie's character vows to avenge her fathers death.

I created my own version of Peggy Lee's 'Why Don't You Do Right' using just my violin and voice, recorded by Frank Moon. The Colman Brothers weaved their magic into it and the wonderful WahWah45's released it.

Both versions and a remix by Suonho can be listened to and purchased from Bandcamp by clicking the vinyl picture below.

How are you listening to music these days? I mainly use a mix of vinyl and spotify, but also buy downloads where I can to support other artists, especially in the current climate.
I have discovered a new creative passion recently…I am totally obsessed with throwing clay!! I'm not very good at it yet, but I'm loving the process of working with something so physical, compared to the other worldly quality of composing music.
I love that you have no idea what the finished article will look like until it emerges from the kiln as the glazes don't look anything like the true colours once they've been fired and I'm also proud of the wonky bits!!!

Have you discovered a new skill or passion over lock down??
Thats it from me…
Thanks for making it this far, you must have a really great attention span!
As a thank you here's a song about a recurring nightmare I had as a kid…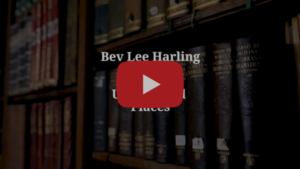 Bev Lee Harling – Man Under My Bed
Taken from my special solo concert series 'Songs In Unexpected Places'. This concert was in an old Gentleman's Library in a convent, untouched for over 60 years…Looking forward to when I can curate Series 2 in 2021.

I'll be in touch soon with news about my 2nd album…its coming!!!

Can't wait to hear from you,

Love, Love, Love

B x
Copyright © 2020 Bev Lee Harling, All rights reserved.
Our mailing address is:
post@bevleeharling.com